Have you ever wondered what happens to the items that get confiscated before you board a plane?  I have, but only when a TSA agent took away the yoghurt I was planning to eat for breakfast, because he considered it a liquid and it was over the 3 ounce limit.  I suspect it became his breakfast...  However, I hadn't given much thought to the objects that are confiscated -- all the scissors, razor blades, pocket knives, etc.  But Michele Pred has.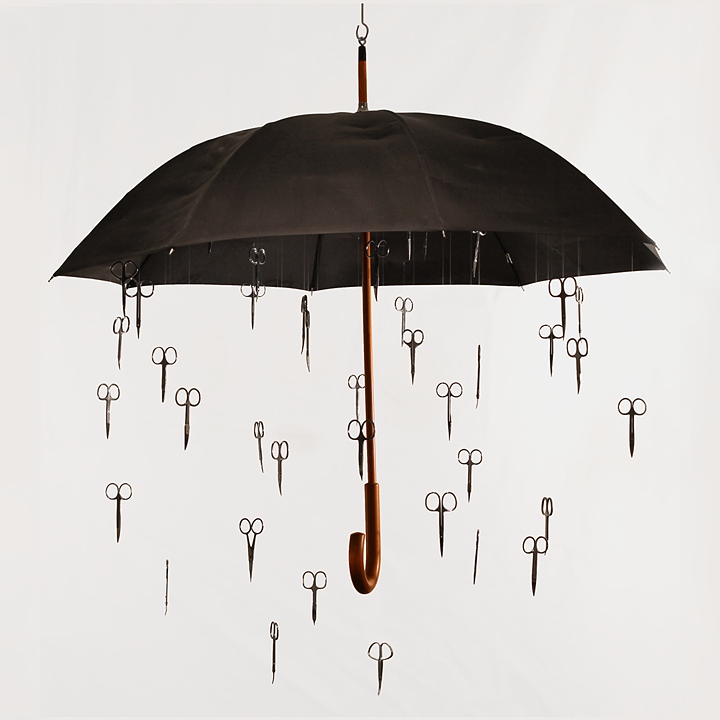 Travelers, 2011
She asked the San Francisco International Airport (SFO) if she could have the confiscated items to use in her installation art work.  I recently saw a show called (IN)Security at the Thompson Gallery on the San Jose State University campus featuring some work from her series Homeland Security.  The work is partly about curiosity, wondering how dangerous the tiny (formerly travel-size) sewing scissors could be, or to whom all of these pocketknives belonged?  Did they have sentimental value, and have they been saved from a death in oblivion by being on display, in the shape of heart, in this exhibit?
The show also has more serious undertones, though, as a social commentary on how our culture views danger and threats.  Michele uses color and placement of objects to create an American flag out of razor blades, pocket knives, or, as in this piece, a combination of objects carefully placed in their own containers as if logged for evidence by a forensics expert or scientist.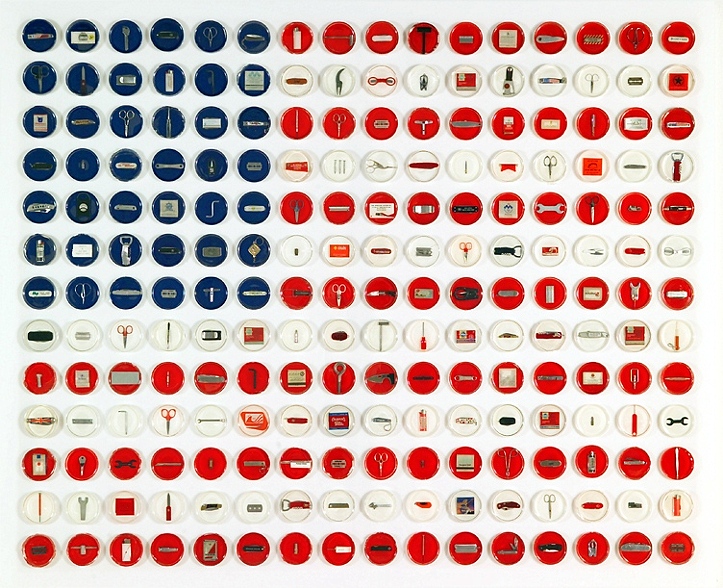 Fear Culture, 2007
Michele speaks about how she is capturing a moment in history, the feelings of threat and danger that has prevailed since 9/11, and the above piece certainly has the feel of creating a time capsule.  Check out more of her work at her website.