Traveling and moving across country have kept me from posting on my blog over the past few weeks, but it's also thrown into sharp focus all that I have learned, and come to appreciate, about the art scene in Central Texas.  Having only lived there for a year, I feel like I've barely scratched the surface, but none-the-less I will share a few of my (paired down) recommendations: First and foremost, check out www.glasstire.com. They are your artist resource in the region, providing information and commentary about shows, artists, jobs and more.
AUSTIN
Despite having a relatively small art scene by some standards, there is actually a lot going on in Austin at many different levels, so I have just made a few selections from my favorites:
Women and Their Work, a non-profit gallery where you will find friendly and informative staff in addition to some very innovative and diverse works, largely installations, by contemporary female artists. They also host a lot of performances, info sessions and social events and are a good place to learn the who's who in the Austin art scene. One of my favorite exhibits from the 2011-2012 season was Laurie Frick: Quantify Me.
The Austin Museum of Art/Arthouse is a mixed experience for me, but with three venues you can definitely find something you like. I suggest the shows at the Jones Center and Laguna Gloria; the latter is located in a French riviera-style house with beautiful grounds and gardens to explore, plus the museum's art school.
Although most people know about the Blanton Museum of Art on the UT campus, which I also highly recommend, it seems the Visual Art Center (VAC) in the middle of campus is less well-known, yet with 5 galleries housed in an impressive building, it has a lot to offer, from both the art department and outside artists.  My favorite this year was Diana Al-Hadid: Suspended After Image.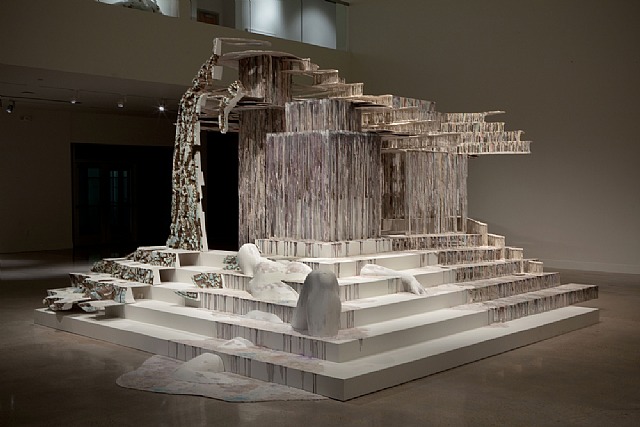 For something a little off the beaten path and for those of you into contemporary and experimental art, I highly recommend Co-Lab. Primarily run by the amazing and innovative Sean Gallagher, this is a non-profit performance and art venue that always has something good going on.
HOUSTON
I only made it to Houston for one day, so despite it being an art hub with many attractions, I am going to simply recommend the  Menil Collection - "A museum and a neighborhood of art. Free of charge, always" as their website so aptly states.  Residing in a quiet residential neighborhood surrounded by trees, it is an oasis great for picnicking in between seeing some fantastic art.  It is home to the Rothko Chapel, an architectural feat and meditation spot open to all religions that houses Mark Rothko's black paintings and was founded by philanthropists John and Dominique de Menil.
Although I loved visiting this peaceful spot, I actually preferred the 6 or so black paintings housed in the Menil Museum that didn't make it into the Chapel.  Among other things, the Museum includes a fantastic collection of Surrealist art featuring mainly works by Max Ernst and Rene Magritte, but also some Yves Tanguy and Roberto Matta, two of my favorite artists from this movement. Behind this building stands the Cy Twombly Gallery, which houses a retrospective of the artist's life works, which really opened my eyes to both the immense scale of many of his paintings and to the subtleties hidden in his brash style.
SAN ANTONIO
My brief stay in San Antonio did not allow time for an art tour, however the McNay Art Museum  was recommended to me, particularly for its Post Impressionist collection.
Also recommended is Artpace, which "serves as an international laboratory for the creation and advancement of contemporary art", according to it's mission statement. They do this through their support of established and emerging contemporary artists via international residencies and exhibitions, and through their education programs.
FORT WORTH (Dallas)
I am sad to state that I didn't actually make it up to Fort Worth, mostly because I missed two amazing shows that I would have loved to see: Caravaggio and his followers in Rome at the Kimbell Art Museum and Lucian Freud: Portraits at The Modern, the latter of which is up through October 28, 2012. These are two artists that I have great respect for, mainly for their very different, but equally impressive, painting styles. Of course I'm talking about Caravaggio's use of chiaroscuro (light/dark) effects and that wonderful deep yet bright red that shines out in many of his paintings; and Lucian Freud's use of thick, tactile paint and bizarre color combinations.